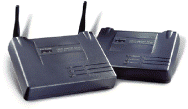 802.11b Wireless Ethernet allows users with wireless ethernet cards to access the internet or office LANs through access points similar to the Cisco Aironet® 350 Series shown above.
Users will enjoy speeds of between 1Mbps and 11Mbps depending on the distance from the access point. The range of the access point varies.
Indoor: 11Mbps at 130 ft to 1Mbps at 350 ft.
Outdoor:11Mbps at 800 ft to 1 Mbps at 2,000 ft.
The access point is typically about 6x5x2 inches with either ten inch antennas or external antennas connected by coaxial cable.
Give your mobile customers the speed and power that they demand with broadband wireless solutions from InterWorld. Using new 802.11b technologies (see the technical data on the left), users access the Internet at broadband speeds through a wireless ethernet card installed in their laptops. Don't confuse this technology with the limited text-based "Wireless Web" associated with cell phones and PDAs. Wireless ethernet is the equivalent of using a cable modem, DSL line or office LAN.
InterWorld can build a wireless network for your company or enter into a partnership agreement to set up a wireless node and provide access to your customers directly. For more information, send an inquiry to sales@interworld.net or call 310-856-0550.