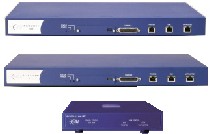 NetScreen Firewall Appliances
NetScreen offers a new class of network products for the network security market. Defined as a Next Generation Security Solution, NetScreen offers the first solution that combines firewall, VPN and traffic management functionality on a single dedicated-hardware platform.
InterWorld stocks the NetScreen 100, 10 and 5XP and provides installation, support, rentals and managed solutions. Call us at 310-726-0500 or email sales@interworld.net.
Product At a Glance
Purpose-built, integrated appliances
High-performance security appliances that integrate firewall, VPN, and traffic management services, all with industry-leading performance
Sizes to meet any business need
Applications include securing a broadband telecommuter, small, medium, or large enterprises, and high-traffic e-business sites
Installation and management
Installs in minutes and can be managed using the built in WebUI, command line interface, or NetScreen's central management solutions, which scale to thousands of devices
Common base
All appliances offer the same core features and management interface, simplifying administration and use
NetScreen Appliance Product Line Overview
NetScreen Technologies' line of integrated security appliances are purpose-built Internet security appliances that combine firewall, virtual private networking (VPN), and traffic management functions. All NetScreen integrated security appliances feature near-wire-speed performance, even for 3DES encryption, and very low latency, allowing them to seamlessly fit into any network. Installing and managing appliances is easily accomplished using the WebUI, the command line interface, or NetScreen's central management solutions.
Firewall security
NetScreen's appliance provides a scalable security solution, ranging from protecting broadband telecommuters to large corporate offices and e-commerce sites. NetScreen's full-featured firewall uses technology based on stateful inspection, securing against intruders and denial-of-service attacks. NetScreen's custombuilt ASIC processes the firewall access policies and encryption algorithms in hardware; providing significantly higher performance than software-only solutions.
ICSA certified stateful-inspection firewall
Fully integrated solution with security-optimized hardware, operating system and firewall, which provides higher level of security than patched-together software-based solutions
Robust attack prevention including SYN attack, ICMP flood, Port Scan, and others
Network Address Translation (NAT), Port Address Translation (PAT)-hide internal, non-routable IP addresses
Virtual Private Networking (VPN)
Integrated into all NetScreen Appliances is a full-featured VPN solution. They support site-to-site and remote access VPN applications.
ICSA certified IPSec and VPNC tested-compatible with other IPSec certified devices
3DES and DES encryption using digital certificates (PKI X.509), IKE auto-key, or manual key
SHA-1 and MD5 strong authentication
Hub and spoke support to simplify configuration for widely deployed VPN networks, alleviating the need to configure tunnels between all remote sites
Traffic management
Traffic management allows a network administrator to monitor, analyze, and allocate bandwidth utilized by various types of network traffic in real time; ensuring business-critical traffic is never compromised for web surfing.
Manage based on IP Address, user, application, or time of day
Set guaranteed bandwidth and maximum bandwidth
Prioritize traffic with eight prioritization levels
Robust, easy-to-use management
NetScreen's appliances include robust management support, allowing a network administrator to securely manage the devices. Since VPN functionality is built in, all management can be encrypted for truly secure remote management.
Menu-driven central site management using NetScreen's Global Manager or NetScreen-Global PRO
Browser-based management with the built in Web UI
Command line interface (CLI) accessible via SSH, Telnet, and console port
E-mail alerts, SNMP alarms
Syslog or WebTrends ™ for logging, monitoring, and analysis
Products
The Power of ASICs
NetScreen's security ASIC processes the firewall access policies and encryption algorithms in hardware, which is a significantly faster approach than in software and one that frees the CPU to manage data flow. This security-accelerating ASIC is tightly integrated with NetScreen's ScreenOS operating system and system software to eliminate unnecessary software layers and security holes found in other security products built on general-purpose commercial operating systems. By bringing security functionality to the system level, NetScreen has removed the overhead of extra platform layers that currently degrade the performance of other security products, which are typically PC-based or worksta-tion- based solutions.
Reliability and security of appliances
Not only is it easy to install and manage NetScreen's all-in-one security appliances, but they also offer improved reliability and security. Without the typical reliability issues of disk drives and other moving parts, appliances are the best long-term solutions when up-time is important. NetScreen Appliances only require configuration and management of the firewall, VPN, and traffic shaping features, alleviating the need for configuring servers and third-party operating systems. This limits the time required to install the security device and reduces the number of setup steps where security holes can form.
NetScreen-100
The NetScreen-100 is one of the most versatile security products available today, easily integrating into many different environments, including colocation facilities, data centers, multi-tenant buildings, and medium and large enterprise offices. Complete with three auto-sensing 10/100 Base-T Ethernet ports, the NetScreen-100 performs at near wire-speed for even the most intense applications, such as 3DES encryption.
Central point in hub and spoke VPNs
The NetScreen-100 is ideal at the central site of a hub and spoke VPN network. Instead of configuring VPN tunnels between every remote site, configure one VPN tunnel to the central site, and let the central site route the traffic to the correct remote site.
High availability
The NetScreen-100 supports high availability, maintaining full session synchronization, including IPSec Security Associations (SAs). Since all sessions and IPSec SAs are maintained between both devices, the fail-over from the Master device to the Slave device occurs with near-zero interruption to the network.
High-powered performance
The NetScreen-100 offers industry-leading performance, but that is not the only measure of performance in today's networks. The NetScreen-100 supports 128,000 concurrent sessions, approximate-ly 20,000 new sessions per second; and since the firewall and VPN encryption is processed on NetScreen's custom ASIC, the NetScreen-100 offers very low latency. With support for 1,000 VPN tunnels, the NetScreen-100 can comfortably protect and connect large VPN networks.
Colocation friendly
Measuring only 10.8" x 17.5" x 1.875", the NetScreen-100 is rack mountable and includes rack-mounting brackets. Additionally, the NetScreen-100 offers AC and dual-feed DC power supply options.
Content filtering
All NetScreen Appliances integrate with the Websense™ content filtering solution, to block inappropriate content and defer personal browsing to non-work hours.
Appliance Specifications - (Click Here)
NetScreen-10
The NetScreen-10 offers a complete security solution for small and medium-sized companies and branch offices. Featuring three 10Base-T Ethernet ports (trust, untrust, and DMZ), the NetScreen-10 performs at near wire-speed, protecting the LAN as well as public servers, such as mail, web, or FTP.
Full-featured product at a great price
Featuring the same firewall, VPN, and traffic management technology on the NetScreen-100, the NetScreen-10 is truly an all-in-one solution. The NetScreen-10 supports up to 4,000 concurrent TCP/IP sessions and 100 VPN tunnels.
DHCP Server
The NetScreen-10 (and NetScreen-5XP) can be configured as DHCP servers to assign IP addresses to the trusted network. This alleviates many of the management issues and administrative time associated with IP address management.
Appliance Specifications - (Click Here)
NetScreen-5XP
While at the low end of the NetScreen appliance product line, the NetScreen-5XP still offers an enterprise-class solution. Using the same firewall, VPN, and traffic management technology, the NetScreen-5XP is fully capable of securing a broadband telecommuter or a small office.
PPPoE and DHCP client
The NetScreen-5XP's untrusted IP address can be automatically assigned dynamically using PPPoE and DHCP.
Big performance for a small device
While only weighing 1 lb., the NetScreen-5XP supports 2,000 concurrent TCP/IP sessions, 10 VPN tunnels, and is available in 10-user and unrestricted user versions. As with all NetScreen appliances, the NetScreen-5XP offers near wire-speed performance over it's two 10Base-T ports.
Appliance Specifications - (Click Here)